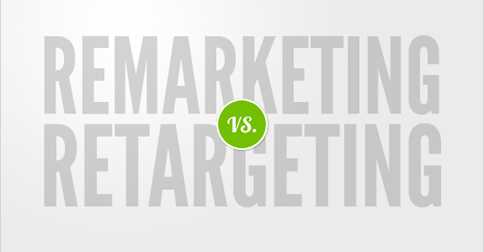 10 Aug

Remarketing vs. Retargeting : Isn't it the same thing?

There are two main terms you hear when talking about this approach : Remarketing and Retargeting. Since they pretty much sound the same, let's explore the differences between the two, the various tools that are available to execute these campaigns, and talk about the use cases in which each tactic is useful.
What is the exact definition and how does retargeting marketing work?
While your website might be great at attracting visitors to your website, only two percent of web traffic converts to a sale on a first-time visit. This means that even if you're getting a lot of web traffic, you may not be getting a lot of sales. As such, the purpose and definition of retargeting is finding a way to reach out to the other 98 percent of people who don't make a purchase on their first visit to your site.
How does retargeting work?
Retargeting is most often used to describe online ad placements and display ads, served based on a user's activity on your site. A user comes to your site, a cookie's set and you can now target ads to them on other sites they visit, hence the term retargeting. (A browser cookie is a small piece of data that embeds itself in a user's browser, making it possible to see what websites the user is visiting).
After the cookie is dropped, the cookie will follow the user as they travel to other sites on the web. Then, the cookie will implement the retargeting strategy by putting out an ad for your business, encouraging the user to return to your site. The ads are only dropped, or targeted, for users who have already shown interest in your site but haven't yet made a purchase.
How effective is retargeting ?
As nearly all website traffic that visits a website for the first time leaves without making a purchase, retargeting can be very effective in recalling those visitors and getting them back to your website with buying in mind.
Here are some Retargeting Statistics :
– According to CMO, retargeting marketing represented 1,046 percent of lift in trademark search behavior in a study that analyzed various strategies for lifting search activity.
– Only 11 percent of consumers feel negative about retargeted ads. On the other hand, 89 percent feel either positive or neutral about them, according to e-marketer.
– Retargeting can boost ad response by a whopping 400 percent.
– Jeff Jarret, the VP of Digital Marketing at Kimberly-Clark, the corporation known for its personal and healthcare products, has stated that it sees a 50 to 60 percent higher conversion rate amongst customers who have been retargeted versus those who haven't been.
Pitfalls of using Retargeting :
Mainly, the possibility that your retargeting efforts could annoy or create feelings of mistrust with some customers.
InSkin Media surveyed 1600 UK adults, equally represented by gender, age, social class, and region regarding their feelings about display retargeting. Here's what they found:
– A slight majority of respondents (53%) find online ads 'interesting and useful' initially, but become irritated if repeatedly exposed to the same ad. 55% reported that they are less likely to buy products or services if they see the same ad online multiple times.
– Retargeting consumers with ads on sites unrelated to the advertised product or service results in negative sentiment.
– 12% of respondents said they had approached an online advertiser directly to complain because they felt they were being too intrusive.
It's not all bad news for retargeting, of course:
– The respondents aged 20-29, who have grown up with digital commerce, are 60% more likely to find online advertising 'exciting'' and different to other forms of advertising.
– Consumers are 4 times more likely to be encouraged rather than discouraged to buy something if they see a relevant ad during their research on it.
The last point is important, as it emphasizes the notion that display retargeting is a great way to support the research phase of the buying process.
How does Remarketing work?
While you may hear retargeting tools referred to as remarketing tools (ahem, Google), 'remarketing' is typically the term used to describe re-engaging customers with email.
While retargeting typically relies on cookies dropping ads, as described in the explanation above, remarketing usually uses email. So, remarketing collects a user's information, and then uses it later to send them an email (or, in the days of old, direct mail).
Both retargeting and remarketing can be effective, and a combination of both might be an effective strategy for improving your overall profits.
Remarketing vs Retargeting in 2018
Remarketing and retargeting are used interchangeably (thanks to Google), so they refer to the same thing now.
Google called their retargeting service, remarketing (https://support.google.com/adwords/answer/2453998) and now remarketing is more widely accepted as the same thing as retargeting. The former remarketing activities are now a subset of email marketing and more often referred to as a form of email marketing automation (like cart abandonment).
So in summary think of them as one and the same word.
To add a bit more, Facebook refers to remarketing/retargeting as Custom Audiences.
Download our FREE Report on Retargeting Secrets For Local Business today.