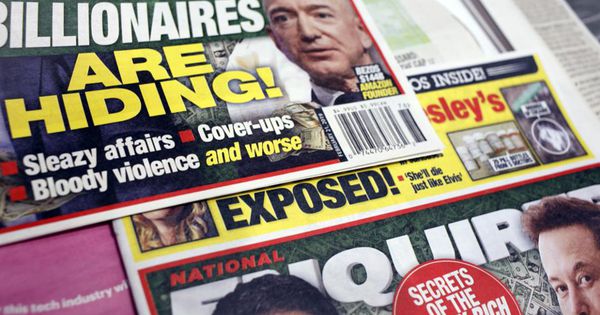 12 Apr

Son Of National Enquirer Founder Wants To Buy Supermarket Tabloid

Paul David Pope, one of the sons of the late National Enquirer owner Generoso Pope Jr., said he is lining up partners to buy the supermarket tabloid from its cash-strapped current owner American Media Inc. (AMI) under fire for its role in paying off a former a Playboy model who claimed to have an affair with President Trump.

Pope declined to disclose the partners he was talking to and wasn't sure if other bidders were also interested in the Enquirer. He is a critic of AMI and its CEO David Pecker whom he described as "pathetic" and accused of mismanaging the publication.

"I am the only person … by virtue of my birthright and osmosis and growing up in this family business … that could resurrect it to some extent," said the 51-year-old Pope in an interview. "Nobody would be able to bring back the Enquirer to where my father had it. That's impossible…"

When Pope's father ran the Enquirer, the company sold between 5.5 million to 6 million copies per week and generated profits in "the three figured millions," he said. Circulation dropped to almost 250,000 last year when AMI posted a loss of $72 million. After Pope's father died in 1988, the Enquirer was reportedly sold for $412.5 million.

AMI announced yesterday that it had conducted a "strategic review" and expected a sale to occur "in the near future."

One glaring weakness for the Enquirer is online. According to comScore, the National Enquirer's website attracted 583,000 unique visitors in February. The audience for People.com, the web platform of Meredith's People magazine, topped 75 million during the same time, more than double the 34 million people who visited TMZ.com the 20 million people who checked out Usmagazine.com and 8.3 million users who dialed-up Radaronline.com.

"When they tried to launch the Enquirer online it failed just miserably," Pope said. "That's something that would have to be built up. You (also) would have to get the subscription base built back up."

Logical buyers such as People magazine parent Meredith and AT&T's WarnerMedia division which owns TMZ.com, likely won't be interested in taking a chance on the money-losing Enquirer whose brand has become so toxic that AMI's top shareholder Chatham Asset Management demanded that it be sold. Both Meredith and WarnerMedia declined to comment for this story.

Indeed, Billionaire Ron Burkle is denying a New York Times report that he was "deep in negotiations" about acquiring the Enquirer. A spokesman for Burkle's private equity firm Yucaipa Companies told The New York Post on Thursday that "We aren't buying it." A spokesperson for Yucaipa couldn't be immediately be reached for comment.
According to a 2016 Securities & Exchange Commission filing, operating income at AMI's Celebrity Brands division which includes the Enquirer, fell 20 percent on a year-over-year to $54.1 million during fiscal 2016. Operating revenue dropped 9 percent to $164.4 million during that same time period. The SEC filings were issued when AMI had publicly traded debt.
Under Pecker's leadership, AMI has boosted its position in the celebrity news market with its $100 million purchase of US Weekly from WennerMedia in 2017 and its $80 million acquisition In Touch, Life & Style, and Closer as well as the nine titles aimed at teens from Bauer in 2018.
"We have been keenly focused on leveraging the popularity of our celebrity glossy, teen and active lifestyle brands while developing new and robust platforms including broadcast and audio programming, and a live events business, that now deliver significant revenue streams," Pecker said in a press release. "Because of this focus, we feel the future opportunities with the tabloids can be best exploited by a different ownership."
The Enquirer brand is radioactive to advertisers and many readers after it admitted in court that it paid $150,000 to buy the silence of former Playboy model Karen McDougal who claimed to have an affair with President Donald Trump in order to avoid influencing the outcome of the election. Pecker, a friend of Trump, was granted immunity from prosecution in exchange for his testimony against former Trump Fixer/Personal Attorney Michael Cohen, who has pleaded guilty to federal tax evasion, campaign violations and lying to Congress.
Pecker also came under fire after Amazon.com CEO Jeff Bezos accused AMI of trying to blackmail him after it revealed he was having an extra-marital affair. Bezos alleged that AMI acted in cahoots with Saudi Arabia as payback for the Washington Post's hard-hitting coverage of the murder of Saudi journalist Jamal Khashoggi, who wrote for the paper that the billionaire owns.. Boca Raton-based Florida has denied Bezos' claims, which he reportedly is meeting with federal prosecutors to discuss.